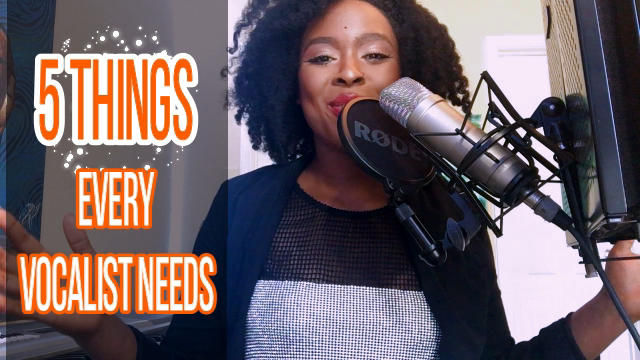 If you ever googled singing tips —you probably noticed that there are a ton of resources and videos singing the praises of an array of gadgets and tools that help vocalists and how you've got to get it right now if you want to be a better singer! But honestly, many of those gadgets and hacks are artificial or supplementary at best.
They don't address the core of the issues of singers who are trying to be better. Whether you're just beginning or experienced — these 5 things will ensure your growth as a vocalist!
1. Growth mindset
Fixed vs. Growth: Before you can have any hope for improving your voice you will need a basic belief that you can change it. It doesn't mean you already have the answers. But you have to believe in yourself enough to know that you will find the right resources, the right vocal coach, the right mentor who will guide you and help you develop and grow. Instead of thinking…I'm stuck with what I've got. I'm stuck with what I can do. You say I am dedicated to being better. I am dedicated to learning how to do more!
Resilience: You have to be willing to get back up when you fail. You will never learn or grow if you never try because of fear of failing. I'm going to tell you straight up…you're going to fail. But, I'll tell you this…you won't fail forever if you consistently get up and try again. A thing that helps me when I feel discouraged or am experiencing failure is I say to myself, "what can I learn from this? or I will simply say, cool, I'm one step closer to getting it right!" this will keep you going even through the hard times. TRUST ME — if you don't plan for failure, failure will drag you. But if you plan for success even in your failures, you're already winning!
2. Accountability
You need to be honest with yourself. If you want to go where you've never been…you need to do something you've never done before. IT can be tempting to want to do everything by yourself and keep yourself 'safe' from criticism and help. But when you do that, you'll be living in your own little delusion. You can't grow like that. It helps to find a mentor you trust who will hold you accountable for your growth and will guide you on your next steps when you feel lost. Everyone gets lost sometimes. Everyone needs encouragement sometimes. And everyone needs feedback to grow.
Accountability is a weird little thing too — there's something that happens in our brains when we break our promises to others that don't happen when we break the promises to ourselves. Breaking a promise to yourself will feel like crap, but you can numb yourself out of it temporarily and be in denial when you give up. But when you let someone else in — sometimes you'll do the right thing for someone else when you know it's what you need but wouldn't do for yourself otherwise. So — if you want to become a better vocalist…if you want to start getting lessons. Tell someone you trust that you plan to do it and tell them when you start!
3. Short & Long Term Goals
Every vocalist needs to have short and long-term goals. I mentioned in the vocal range article that gaining vocal skills is like a logarithmic graph. Meaning that it's difficult at first and has the biggest results at first and then needs regular maintenance to continuous improvement. Well….having a short term goal will help make the difficult challenges easier to manage. Having a long term goal…such as be able to grow your vocal range by 5 notes will help you know what kind of small goals to set for yourself — an example of a small goal for improving your vocal range would be to have vocal lessons once a week and to work on your vocal regimen complete with vocal exercises made for increasing your range — 3 times a week.
4. Songs You've Mastered
As a vocalist, you need to always BE READY! You never know when an opportunity will come up. So, it's good to have a few songs in your back pocket that you already know how to sing and can perform at short notice. It also helps build your confidence.
5. Songs You Aspire to Sing
One way to MAKE SURE your voice improves over time is by learning a song that is well beyond your current skill level. Working on a difficult song with a vocal coach will help you develop your voice along the way and not only will you get the benefit of a better voice at the end of it — -but you will finally have your favorite song in your back pocket like the rest of the songs you've mastered. It feels AMAZING to sing a song you've never been able to sing before.
That songs that I aspire to sing have evolved. Right now, I aspire to sing Emotions by Mariah Carey. It's WELL beyond my current skill level. Her highest note was E7, mine is G6 — I have to increase my vocal range by 5 notes to sing the highest note in that song. Now, I can sing some of her other songs — But, had I never set Emotions as a goal — I wouldn't be at a G6 now. And guess what, I just told you on air — so technically, you're my accountability partner now! haha.
So remember these 5 tools every vocalist needs:
Growth Mindset
Accountability
Short & Long Term Goals
Songs You've Mastered
Songs You Aspire to Sing
Well you guys, until next time — have a wonderful day!
Kristal Cherelle